It was time to start on the Center Section. This section is a key structural component as it is the location the wings will eventually attach. The factory builds out the center spar sections and are matched to the specific wing spars you get in your wing kit. This is to ensure super aligned fit. You can actually see serialized part stamps in the spar sections. In the first of three sessions this week Sam and I started prepping parts. This consisted of fluting, final drilling, deburring, and fabricating parts. I focused on the part prep while Sam was working on a different project.
As I prepped parts, Sam took on the meaty project of fabricating the Fwd Control Mount. This part started as raw Aluminum Angle, and had compound complexity of holes, angles, and match drilling. It's amazing how long these single parts take, so I was happy Sam was there to take on the project. Thanks Sam!
With just a touch more work in the next session (mostly edge deburring), I was ready to prime. It was a non-event, so here are the before and after shots. I'll note that for some reason, the paint gun was flowing a lot better this time. It may be because of the way I oriented the gun in between coats to ensure nothing would dry out. I'll try it again next time to see if it is a best practice going forward.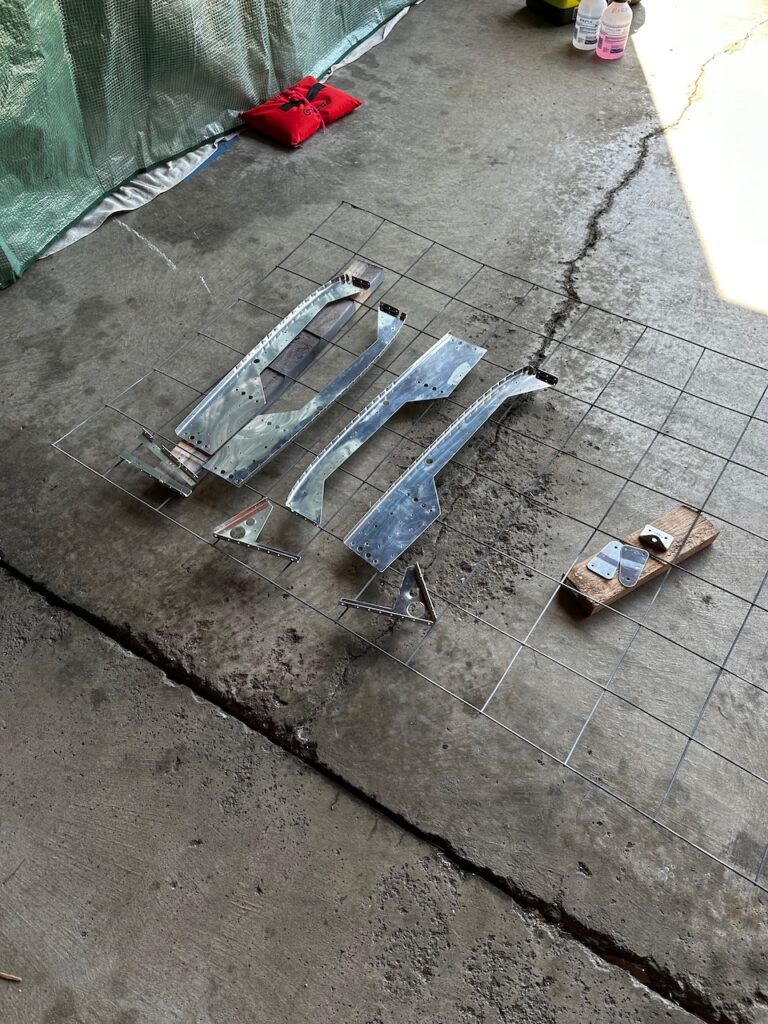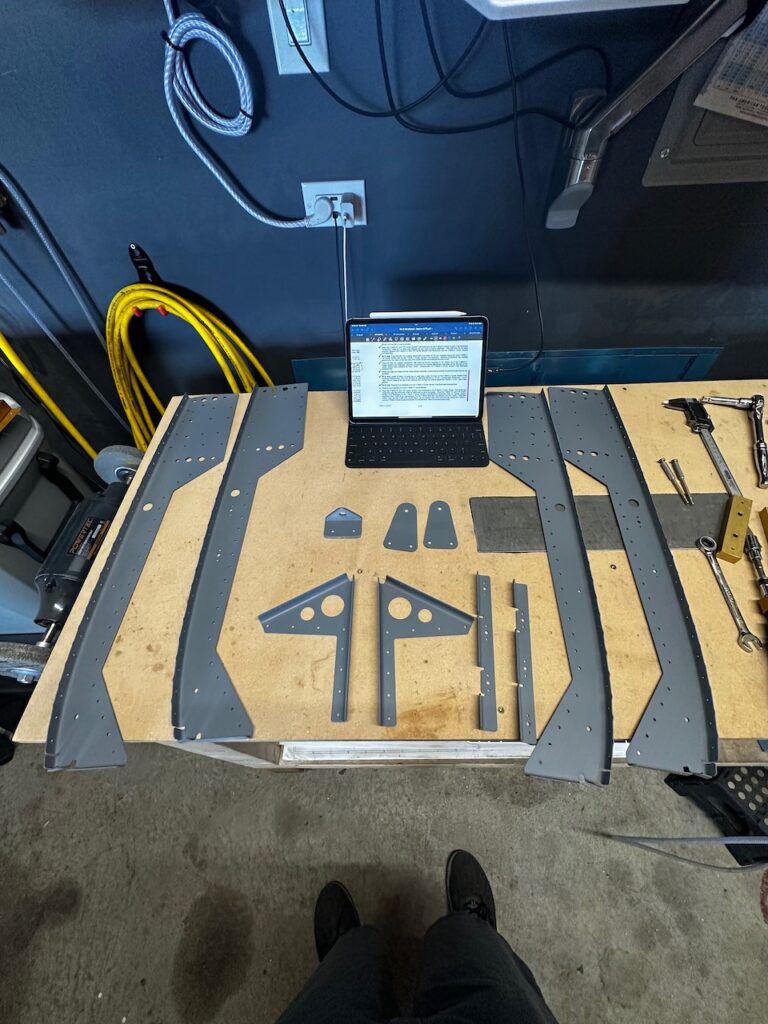 On Sunday, it was Game 7 of Warriors vs Kings in the NBA Playoffs. Great time to get a long session in. Before Jack came down to help, I got as much work as I could done. I installed all the nutplates, as well as squeezed the outboard rows for the connection between the center spar sections, and the left and right center bulkheads. Once Jack arrived, we were able to buck the rest of the rivets. I can't stress how much easier (and better quality) it is with Jack helping on the bucking. I can focus on the gun, and he can focus on the shop head. Jack's friend, Tyler, also came down. Mostly to watch basketball, but also got some time in learning how to squeeze rivets, and helping with some of the bolt & nut torquing.
Next up, I riveted in the Vertical Bars. They used 4-14 rivets..those are LONG! The shop head was pretty flat, but they are not structural rivets… primarly to hold things in place before you put in the wing bolts. With the bars in, I test fit the fwd and aft center bulkheads together, and fit in the various brackets to be installed later. 
Center Section is coming along nicely. Next up, we'll build the precise spacers (1 7/16″!) and then permanently join the bulkheads. In prep, I went down to KC's house to get some primers on how to plane wood. I now know what wood to get and then KC is going to help get the spacers formed correctly. Until then…. Happy Building!