Today was a bunch of miscellaneous tasks. The target is my first priming session next Wednesday and I'd love to have the main and rear spar parts all ready for priming. Although I didn't necessarily do it in this order, below are tasks accomplished this session. On top of all of that work, Nico made a hard push to finish his toolbox!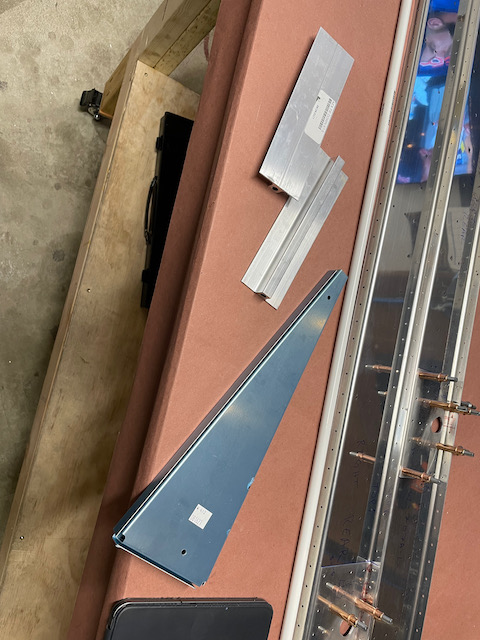 But before all of that, I was excited to get the parts I had been waiting for for a while. It gives me everything I need to finish the Main Spar prep, as well as every backordered item minus the W-710 wing ribs. So close to everything I need from Van's!
Van's Toolbox practice Kits #3
Giacomo and Nico joined for a session on their toolboxes. Nico really got going on his, and wanted to finish it out tonight. We ended up staying pretty late to get everything done. One great learning from completing the project is that I didn't have all the squeezer cup sets needed (was missing the 1/8″ cup set). We were able to use the 3/32″ cup set to squeeze the AN426AD4 heads, but since the cup set was a little small, you can see little marks on the head if observed close enough. I got an order into Cleaveland to hopefully have those for next week when I start riveting for the final spar prep steps. Nico also decided to go with a "matte" finish by sanding down his toolbox. I like the look, and also learned what level of "scratches" etc will be hidden by this type of work. (My understanding is that you scratch up most surfaces as part of painting prep)  
On the main spar, I was able to use the new drill bit to finish up the tie-down spacer lightening holes. It worked absolutely perfectly with this new bit, so clearly I got duped by a bad unibit on my previous attempt. I ended up get the Dewalt bit, and it worked great. To cleanly finish the lightening holes I got to use my scotchbrite drill adapter to clean up the holes.
Later on in the evening, I got to the tie-down material, and worked through cutting down the tie-downs to length, and tapping the tie-down for a 3x16x1″ thread.  I had never done this before, but it worked out pretty nice. After tapping the hole, it was a bit of a mess from the cutting oils, but I had some brake cleaner that worked well to flush the threads cleanly. I also marked and drilled the "location hole" for the tiedowns, but only had #12 bit, so will need to enlarge when I get the right size bits. One interesting challenge for cutting the tie-downs to length, is that the plans specific 7 15/32 inch length, but it was already cut to 7 1/2″ inches (i.e. 16/32), so cutting the 1/32 off was difficult. I think I did ok, but wondering if it didn't make sense to try.
On the rear spar prep I didn't do much, but I did do final #30 drilling of all the holes for the inboard fork and doubler. Not much to report here, but ready to do a bunch of deburring during the first NLDS Giants game Friday evening!!