It was time. Longeron bending. It's one of those scary steps where you feel like it's make or break. It's also fairly confusing what actually needs to be done, and the instructions make it feel like you have to end up with highly precise measurements using highly imprecise methods. But… at some point you have to just start, and see how it goes. To do that I needed to get all the assemblies in one place, so time to build a fuselage table! I decided to keep it simple and just build a platform to sit on top of some of the saw horses. A quick trip to home depot and a short while later… tada!
Before getting to the Longerons, I needed to shape some side plates. The instructions actually order the longeron bending before starting to build out the fuselage, but the longerons aren't needed until different places in the structure assembly. I decided to wait until they were actually needed, hoping to understand a bit more about what I was doing before starting to shape them. In hindsight I think this was a good call, as with the structure in front of you, it's more clear what you are trying to acheive. So I skipped the longeron bending page, and moved on to the next steps in the fwd structure assembly. The instructions call for a wood block plus 1/8″ spacers to provide a bending mechanism. I marked 1/2″ lines along the bend parts as a reference for perpendicular and evenly spaced bends. I did this for 4 side plates and two gussets.
I also needed to cut out some gussets (F-845 & F846). There are left and rights for each of these, and they look very similar, so pay close attention to avoid mixing them up. The instructions give good steps to make sure you keep everything in order.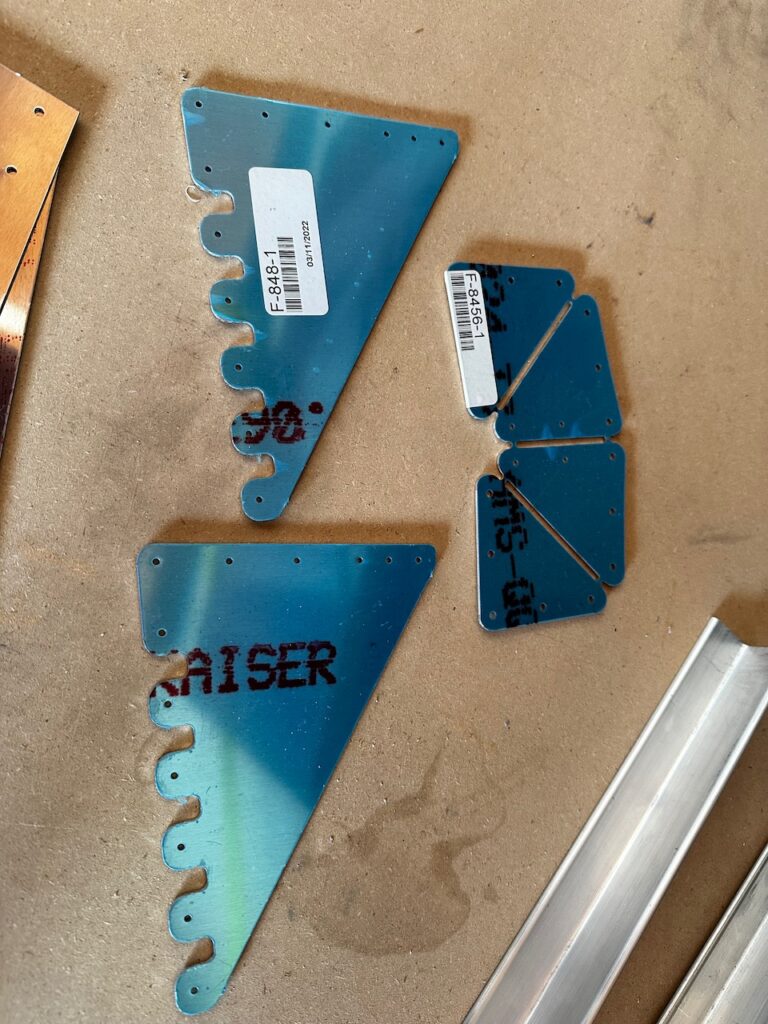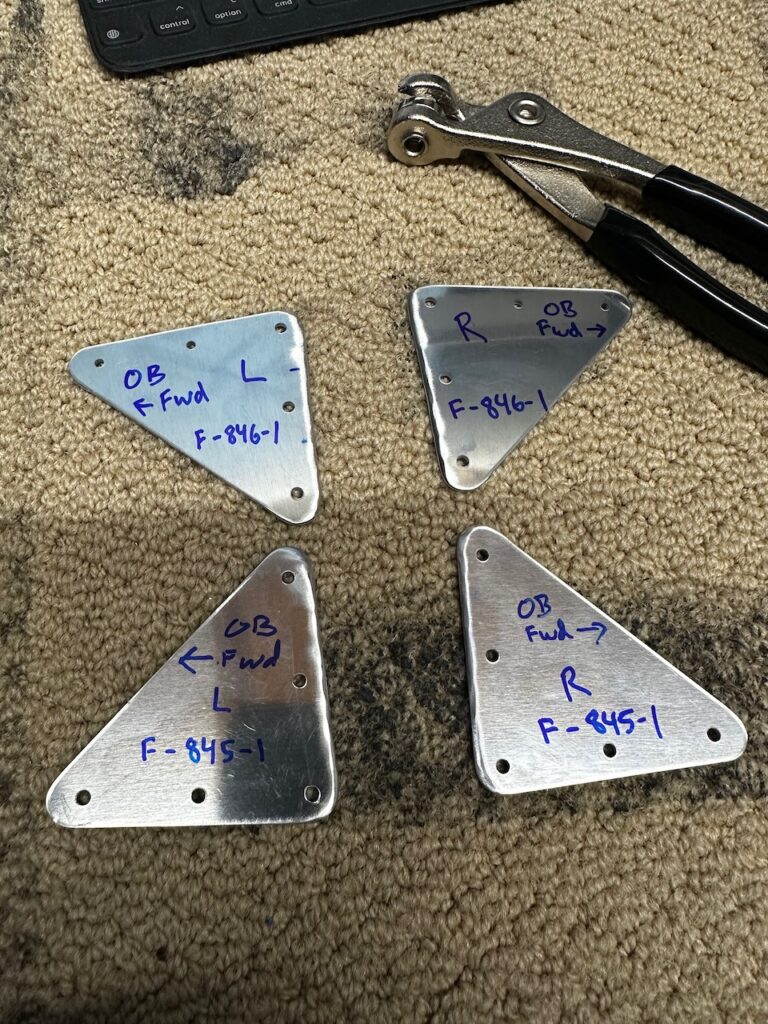 I finally got to a step that required a longeron so it was time to work the left lower longeron. From the last session Jack and I had done the first longeron bends, after verifying that bend "held", I moved on to the "smash" and "twist" of the aft side. Smashing is used to open up the 90˚ angle out to 96.5˚, then I twisted that angle as specified. A couple notes. You have to hit harder than you think… I used a soft head 45 oz dead blow hammer which worked pretty well but still took quite a bit of force.
With the longeron bent, I installed the longeron in its place. It was challenging getting it in place but lots of clamps help! One thing to note. The aft outboard edge of the longeron doesn't appear to stay flush with the fwd floor skin, but after inspecting the plans closely, and reading some posts, it is expected that the longeron sticks out a bit further. It will be radiused as well, so I felt good about it's final placement. With everything clamped down, it was match drill and cleco! Pay attention to the angle of the skins as it is different in each area so drilling perpendicular was a challenge.
Although a bit stressful, it turned out the longeron step is just another step. Take your time and fit multiple times until you feel good about how it looks. Then go for it! Next up, I have to do the right side, and then add some additional longerons further up the structure. Until then, I leave you with a nice evening sunset from the hangar…never gets old! oh… and happy building!