It was an exciting day of anticipation, meeting with friends, and parts. And parts. And parts. But before I get to the parts, let's start with the morning. My delivery time was scheduled for between 9am – 12pm. Naturally, that means I needed to be at the hangar at 9am. I called the shipment company around 10am, and they told me that it was more like 12-12:30pm when the shipment would arrive. In it's absence, I needed to stay busy, so I did some miscellaneous tasks including organizing the clekos in bins, adding an air hose hook for the air system, and the ceremonial mounting of the RV-8 banner. I've already used that banner a few times in reference to what plane I was building.
I had finished every possible small project I could think of to prep for the wing kit, so I went ahead and cracked open the light box practice kit, and organized it's parts. Looking forward to the nut plate work needed on this project, as well as hanging this over the TV as the final decorative piece for the workshop.
Of course, as soon as I had everything organized to start the light box, the delivery truck called to let me know it was time to meet them for pickup. And so the journey begins!
The ABF Shipping company did a great job backing down our hangar row, and setting up to drop the containers right into the hangar. I was thoroughly impressed with their efficiency, care of the packages, and friendliness throughout. I'm looking forward to seeing them again when the Fuselage comes.
Two friends (and co-workers) Chris and Hannah came by to say hi and put in a little work with me. Chris is an avid car guy, and was interested to see what all this plane hub-bub was all about. Hannah and I work closely together, and it was fun to hangout outside of the work setting. We opened up the larger crate first. It was mostly skins and ribs, and the pack job was spectacular. Lots of paper and plastic wrap held everything trightly packed, and as far as I could tell there was no damage. 
After Hannah and Chris left, I tackled the long skinny box myself. I knew the main spars were going to be in there, but I was surprised how much longer the box was than the spars themselves. It turns out the length was actually defined by the Fuselage aluminum angle brackets that were included in this shipment (close to 15′!) Apparently, even though they won't be used until the fuselage build, it is cheaper for them to pack it with the spar shipment. This box also had a lot of the smaller items, including the ball-o-bags, wrapped neatly in a bunch of plastic. I have a feeling a majority of the parts are in that ball. The amount of packing paper that was produced was actually quite surprising and the mound in the photo does not do justice to how much was actually there. With a bit of folding help from another friend, Michael, who surprised me with a visit, we were able to get it into something manageable for my little sedan.
Once everything was unpacked, came the inventory verification task. Although some folks have written about the monotony of it, I actually was looking forward to the task. It was an opportunity to touch and feel all these individual parts that would eventually work their way into a set of wings! My friend Tod came by and we spent most of the afternoon inventorying parts and re-arranging as we went.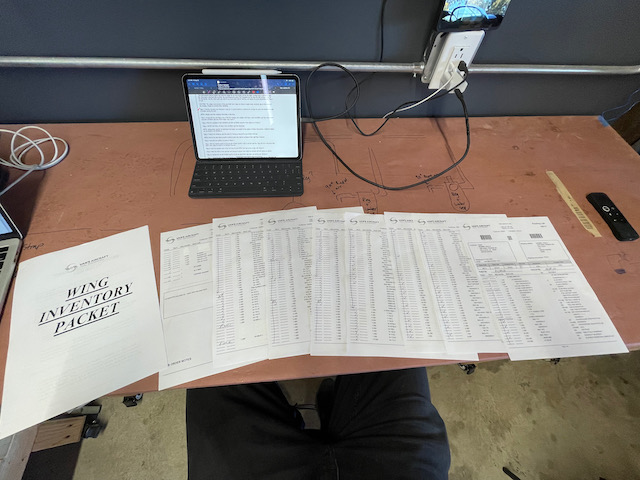 There are essentially 5 major "types" of parts that we had to deal with.
Small Parts (rivets, screws, etc)
Medium sized aluminum parts (ie. ribs, misc)
flat skins
bent skins
long and awkward parts (aluminum angles, tubes, etc)
We started by inventorying the medium parts, and then worked our way through the skins and long parts. All that was relatively quick since there aren't actually that many items in those categories. Then came the small baggies, and we needed to organize all the unique rivets. Tod and I had a healthy debate about keeping them bagged or unbagged. Although in the end my route of putting them in a shared parts organizer won for now, I have a feeling I'll be reworking my plans to move more towards the individual containers Tod was advocating for (don't tell Tod!) 
As for quantity counting, all parts need to be counted (including pop rivets), except for the traditional rivets. For these, they mark weight, but I decided I didn't need to get that crazy on inventory verification. As long as the bag was there, and the quantity generally agreed with the weight in the packing slip, I considered it good.
Nico came by and gave me a little labelling support as the evening closed out. Always a trooper and was excited to be a part of the process.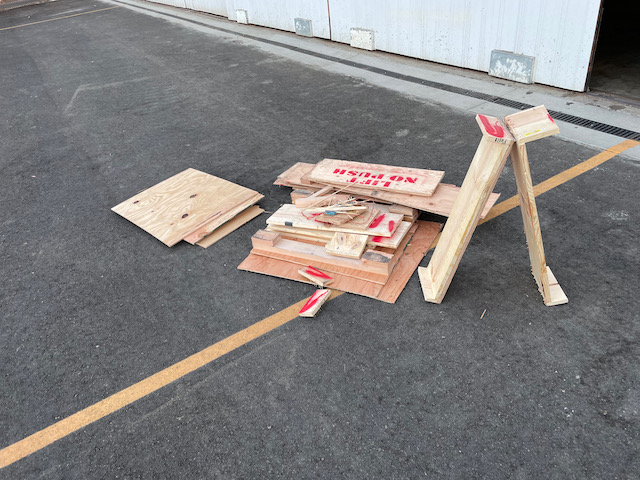 Although I forgot to take pictures, one of the tasks was breaking down the crates. It took a bit of time as they put those things together quite well. I saved a few nice pieces of wood from the breakdown that I'll hopefully make some shelving out of.
By the end of the night, most of the parts were on the shelves, generally organized by plane component (wings, ailerons, flaps, tanks). We had organized all the rivets into their respective bins, and Tod's donated Ikea drawer system worked perfectly for storing the bins. The shelves were full, and the crates were empty. We had inventoried all larger parts, and most small parts. So far, out of all the things that were not marked Backordered, there was only one item missing (W-707G), and one item that might be wrong (supposed to be W-710 but got W-1010 instead). All in all, a wonderful day of building, spending time with friends, and dreaming of what is to come!
This is the table of items left to count and organize. I think there is quite a lot in there, but should be easy work. In the morning I'm hoping to finish this up, and get back to the practice kits to build that last bit of confidence before diving in!